株式会社LincのCEO 仲 思遥が、 東洋大学経営学部にてゲスト講師として講義しました!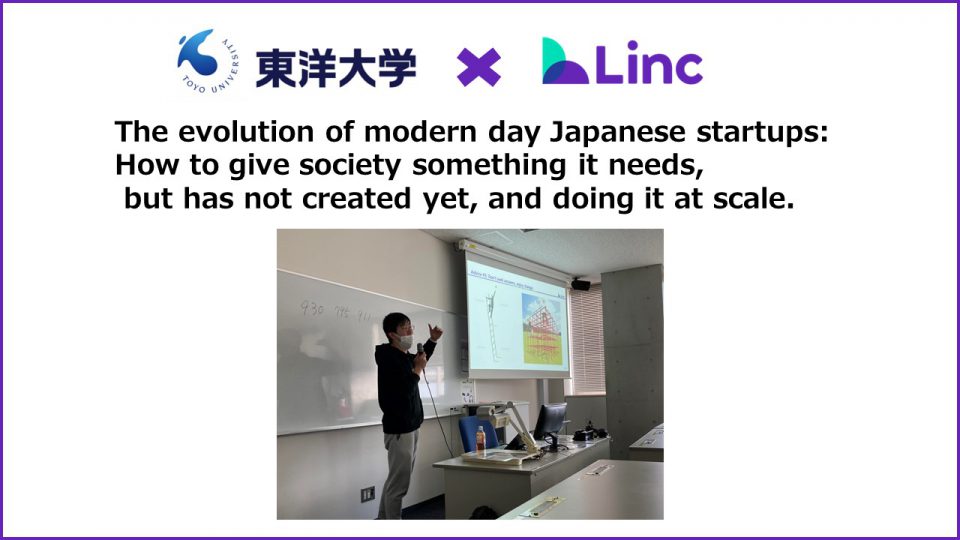 2022年12月13日(火)、学校法人東洋大学経営学部の『英語で学ぶグローバルビジネス』授業にて、CEO仲がゲスト講師として特別講義を行いました。公開授業のため履修中の学生含め合計60名が参加しました。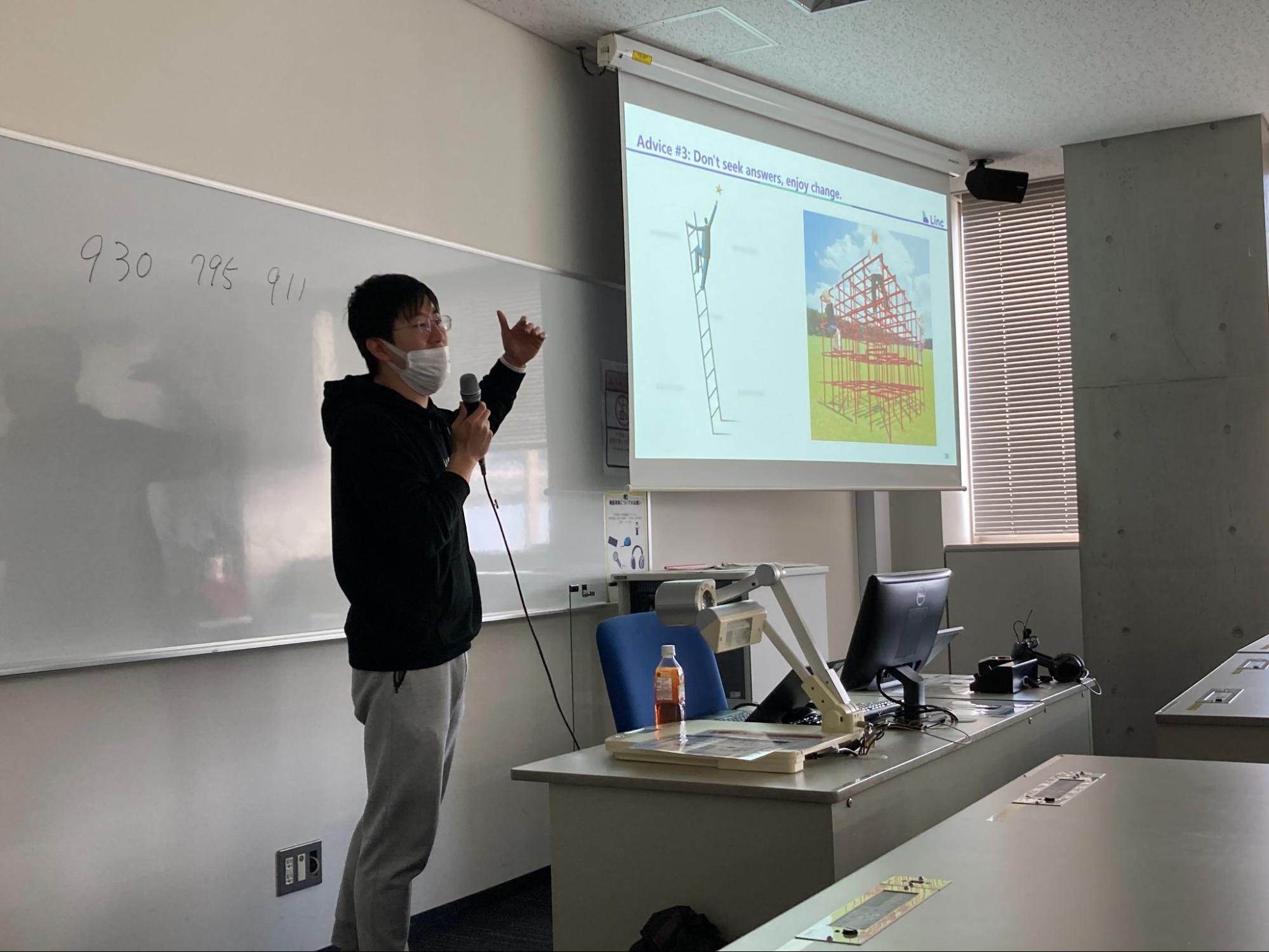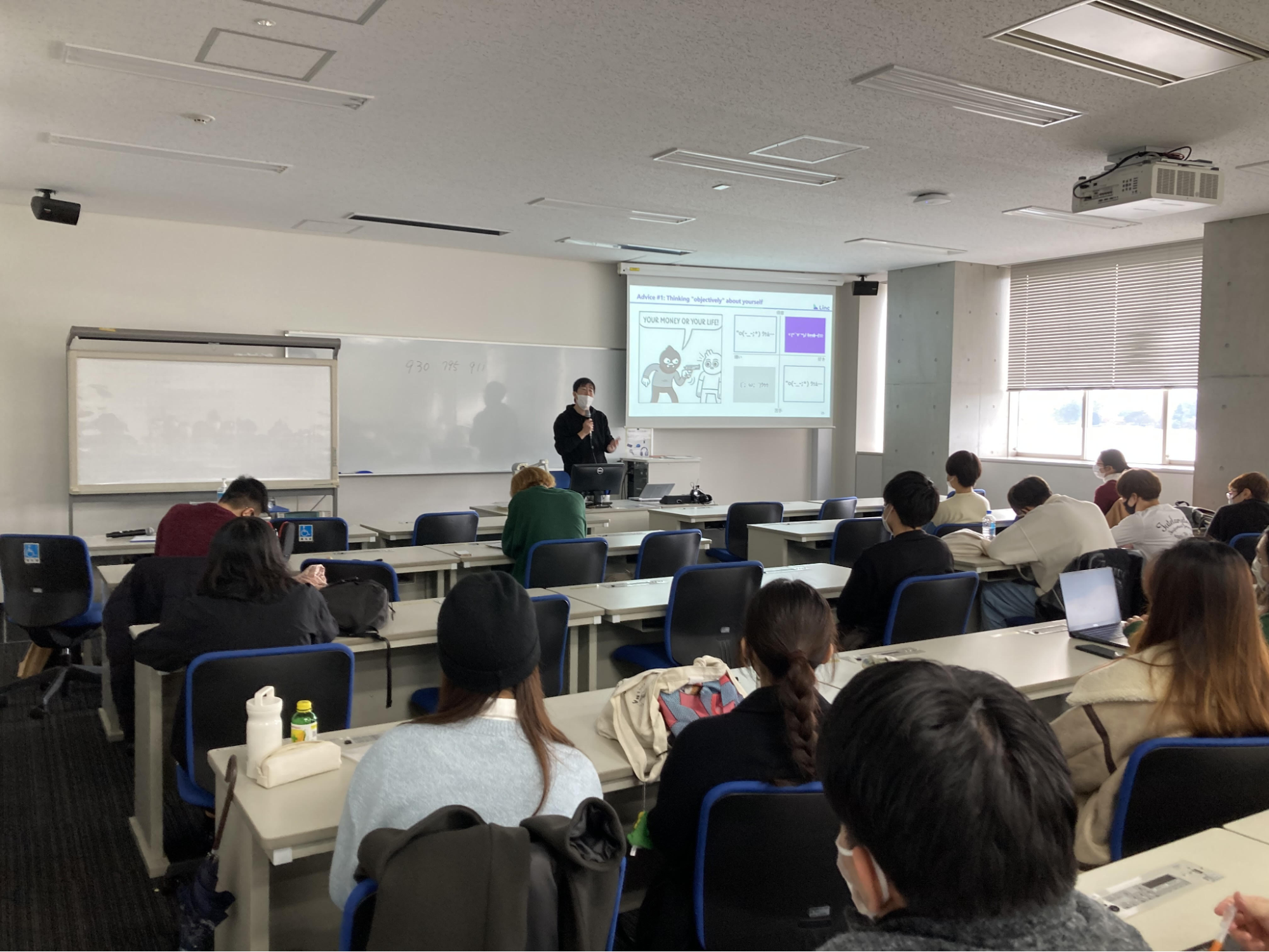 今回は、2020年、2021年に続いて登壇が3回目になります。今年も講義、質疑応答、全て英語で行われ、「日本のスタートアップの進化」というテーマにて、Lincの紹介だけでなく、日本で起業すること、日本ならではのスタートアップの現状、更にキャリアの決め方についてお話をしました。質疑応答の時間では、活発に発言をする学生が多く見受けられました。
【授業後、学生から寄せられた講義に関する感想】※一部抜粋
Recently, I learned that the world is diverse and we need to value connections.
When looking for a job, we have to think about how the company is connected to society.
In order to create value, it is necessary to consider the needs of society while considering the environment.
From these stories, I think that in today's society, no matter what we do, we are always connected to those around us, and we need to think a little bigger than ourselves.
——————————————————————————————————
Overall, I'm sure the presentation was very informative for everyone. There were also many words that made a lot of sense, especially to me. For example, Not "what I want to do", but "who I want to be", Don't seek answers, enjoy the change, It's important to accumulate trust, etc. Among them, "It's important to accumulate trust" was the most interesting. I was very happy to confirm that my usual behavior was properly appreciated.
——————————————————————————————————
In his advice to his past self, Mr. Naka talked about 1) thinking objectively about yourself and not what I want to do, but who I want to be 2) understanding your market value objectively and knowing the life expectancy of your job, and 3) not seeking answer, enjoy change, in the these three advice, I think that the second, knowing the life expectancy of the industry in which you work and the job you do, and understanding your market value objectively, is very important, so when I graduate from university and  go out into the world to work, I want to remember this advice and work with a clear understanding of it.
——————————————————————————————————
Thank you for your special lecture. I'm in the third grade at the university and doing job hunting. Your words changed my way of thinking. I was especially impressed with this phrase : "it's not what you want to do, but what you want to be." I was thinking about what I wanted to do. But, I didn't think about what I wanted to be. Therefore, I decided to think about myself first. 
——————————————————————————————————
I think it's great that you say you are helping people find meaning in working in Japan.
I didn't know that many Chinese people came to Japan because they were attracted to Japanese lifetime employment and welfare programs.
I don't like the lifetime employment system because it allows people to work  without achieving results as long as the company doesn't go bankrupt, reducing the frequency of competition and revolution.
However, I was interested to learn that the lifetime employment system is very attractive to the Chinese people.
They are similar to Japanese internships in that Link Company assists people who want to work in Japan with language learning and hold career events.
Japan is facing a rapidly declining birthrate and aging population, and it is expected that the number of workers will decrease even more in the future.
So, I think these activities will have great merit and significance for Japan as well.
I appreciate that you are close to Japanese culture.
Who you want  to be more important than what you want to do.
I think it's good for my motivation.
Also, I will keep in mind that whether you have trust in society or not is important for work.
Thank you very much for your time today.
——————————————————————————————————
今回、就職活動中の学生も参加していたため、就職活動を振り返るきっかけにもなり、会社や仕事の決め方について「自分が何をしたいか」よりも、「自分がどうなりたいか」を軸にして考える、ということについて印象に残りました、という感想を多くいただきました。
株式会社Lincについて
Lincではインバウンド・タレントの「日本に来て良かった」を最大化させることで多様性と包容力溢れる社会の実現というビジョンを掲げております。
少子高齢化という、抗えない大きな波が押し寄せてくる日本において、優秀なインバウンド・タレントの増加は日本という国の持続的発展に必要不可欠だと我々は確信しています。
そのために私たちはお客様のニーズに応えるべく、常にユーザーである学生や日本語学校をサポートすることによって信頼関係を構築してまいりました。Lincはこれまで投資家から累計3.5億円近くの資金調達を完了して、事業の展開を加速させております。
これまでLincが紹介されたテレビ出演情報:
2022年9月30日(金)放送テレビ朝日系列「朝まで生テレビ!」CEO仲が出演
https://www.linc-info.com/news/page-4774/
2022年10月19日(水)放送NHK総合「クローズアップ現代」にてLincが紹介されました
https://www.linc-info.com/news/221026/
会社概要等、詳しくはLinc公式ホームページをご確認ください。